CAS 57-85-2 Injectable Steroid Compound Testosterone Propionate
Product Description
Model NO.: 57-85-2 Customized: Customized State: Solid Product Name: Testosterone Propionate CAS No: 57-85-2 Molecular Weight: 344.49 Trademark: YC Specification: 98% HS Code: 4101201110 Powder: Yes Certification: GMP, HSE, ISO 9001, USP Purity: >98% Chemical Name: 4-Androsten-17β-Ol-3-One Propionate Molecular Formula: C22h32o3 Apprence: White Powder Transport Package: 1kg/Bag Origin: China CAS 57-85-2
Injectable Steroid
Compound Testosterone Propionate   
Chemical Name: 4-Androsten-17β-ol-3-one propionate
Molecular Formula: C22H32O3
Molecular weight:344.49
CAS NO.:57-85-2
Standard: USP28/BP2003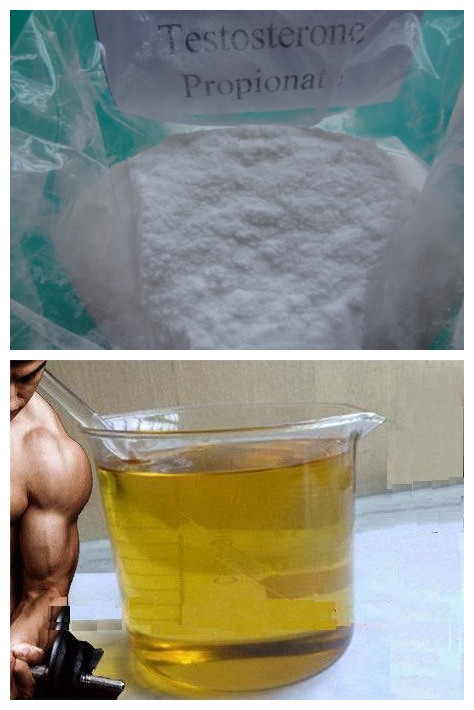 Please see the following introduction about Testesterone Propionate ,and feel free to contact me at 8615927093613 Testosterone Propionate 57-85-2 Injectable Steroid Compound Raw Powder Quick Detail: 1. CAS No.:57-85-2
2. Molecular Formula: C22H32O3
3. Molecular weight:344.49
4. Puriy: 98%
5 Appearance: White to yellowish crystalline powder.
6. Usage: Testosterone propionate is therefore much faster acting than other testosterone esters such as cypionate or enanthate, and requires a much more frequent dosing schedule, in order to maintain stable blood levels.
COA of Testesterone pripionate 
TEST ITEMS

SPECIFICATION

RESULTS

Description

White or Almost White Crystalline   Powder

white powder

Identification

A.B.

Positive

Assay

97.0~103.0%

99.3%

Specific Rotation

+101°~+105°

+102.6°

 


Our Advantages




Loss On Drying

1.0%max

0.27%

Melting Point

153~157°C

153.0~155.0°C

Organic Volatile Impurities

Meets the requirement.

Conforms

Related Substances

Meets the requirement.

Conforms

Residual Solvents

Meets the requirement.

Conforms

Particle Size

100% ≤ 20 microns

Conforms

Conclusion

The specification conform with USP30   standard
Testesterone propionate Description:
Testosterone propionate is a commonly manufactured, oil-based injectable testosterone compound. The propionate ester will slow the rate in which the steroid is released from the injection site, but only for a few days. Testosterone propionate is therefore much faster acting than other testosterone esters such as cypionate or enanthate, and requires a much more frequent dosing schedule, in order to maintain stable blood levels. While cypionate and enanthate are injected on a weekly or bi-weekly basis, propionate is usually injected every second. The propionate ester can be very irritating to the site of injection. In fact, many sensitive individuals choose to stay away from this steroid completely, their body reacting with a pronounced soreness and low-grade fever that may last for a few days. Those who do not mind frequent injections will find propionate to be quite an effective steroid. As with all testosterones, it is a powerful mass drug, capable of producing rapid gains in size and strength. At the same time the buildup of estrogen and DHT  will be pronounced, so typical testosterone side effects are to be expected.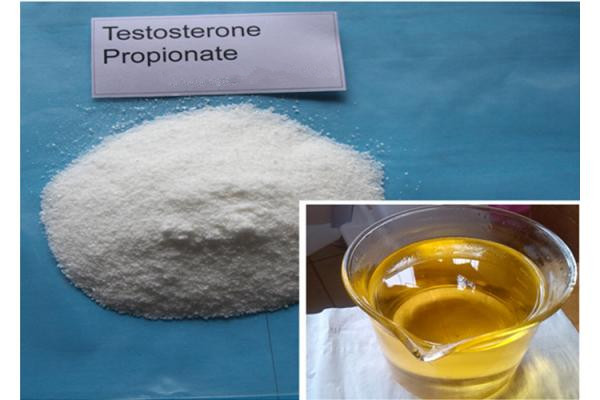 Testosterone Propionate Functions & Traits: Testosterone Propionate is a pure testosterone hormone. Although synthetic it is a perfect replica of the primary naturally produced male androgen testosterone. By design, the hormone is attached to the Propionate (propionic acid) ester, a small/short ester that enables the hormone's release time to be controlled. Without an ester, the hormone would disperse and dissipate rapidly post administration. By attaching the ester, this promotes a controlled release and allows the individual to inject the hormone less frequently. Once Testosterone Propionate is injected, the ester slowly begins to detach from the hormone. As the ester is detached the testosterone hormone begins to release into the blood. The half-life of Testosterone Propionate is approximately two days, which is substantially longer than ester free testosterone, which carries a half-life a little less than 24 hours. As a pure testosterone, Testosterone Propionate carries an anabolic rating of 100 and an androgenic rating of 100 as well. The testosterone hormone itself represents the basis by which all anabolic and androgenic ratings are measured in all anabolic steroids. More importantly, while carrying these structural ratings, its translating rating matches up perfectly. Testosterone Propionate will yield a notable amount of anabolic and androgenic activity. This is important as not all steroids match their structural ratings in a translating capacity. Although synthetic in nature, Testosterone Propionate is an efficient hormone for the treatment of low testosterone. Testosterone is an essential hormone produced by men and women that affects our physical, mental and sexual wellbeing. While produced and essential for both sexes, men require approximately ten times that of women. If you suffer from low testosterone and more than 20 million men in the U.S. suffer from some type of androgen deficiency, Testosterone Propionate will remedy the problem. However, while effective, after all, it is testosterone, it is not a preferred form of treatment as it will require frequent injections. Testosterone Cypionate and
Testosterone Enanthate
remain the dominant forms in treatment plans. However, if you suffer and Testosterone Propionate is what's available it is a suitable option. There are numerous symptoms associated with low testosterone. The symptoms themselves are not life threatening but they severally diminish your quality of life. More importantly, when the condition is ignored it can be an open doorway to many far more serious conditions, some of which are life threatening. The symptoms of low testosterone include: Loss of Libido (can refer to partial or total loss) Erectile Dysfunction (inability to maintain or obtain and erection) Loss of Muscle Mass (despite diet & exercise) Loss of Strength (despite diet & exercise) Increased Body Fat (despite diet & exercise) Loss of Mental Clarity Decreased Ability to Focus Lethargy Insomnia Irritability Decreased Energy Depression Weakened Immune System Testesterone Propionate Applications: The most common dosage schedule for this compound (men) is to inject 50 to 100mg, every day or 2nd day. As with the more popular esters, the total weekly dosage would be in the range of 300-700mg. As with all testosterone compounds, this drug is most appropriately suited for bulking phases of training. Here it is most often combined with other strong agents such as Dianabol, Anadrol, or Deca-Durabolin, combinations that prove to work quite well. Propionate however is sometimes also used with nonaromatizing anabolics/androgens during cutting or dieting phases of training, a time when it's fast action and androgenic nature are also appreciated. Popular stacks include a moderate dosage of propionate with an oral anabolic like Winstrol (15-35 mg daily), Primobolan (50-150mg daily) (15-30mg daily).
Testosterone Propionate Reviews: Testosterone Propionate is an excellent
Anabolic Steroid
. As a testosterone compound it is highly versatile, tremendously beneficial and well-tolerated by most all adult men. When we consider the affordable price of Testosterone Propionate, this only enhances its appeal even more. While tremendously beneficial, there is no advantage in using Testosterone Propionate over other testosterone forms in terms of specific benefits. This testosterone compound is no more or less side effect friendly than any testosterone form. However, some will find it is a little easier to maintain stable and peaked blood levels with this form when the injection frequency is on an every other day basis. This can be an advantage for some but you truly can obtain the same results with Testosterone Propionate as all testosterone forms. Contact us if you need more details on Testosterone Propionate. We are ready to answer your questions on packaging, logistics, certification or any other aspects about Testosterone Phenylpropionate、Testosterone Enanthate. If these products fail to match your need, please contact us and we would like to provide relevant information.
Product Categories : Oil-Based Sterioids