Ganoderma lucidum extract Ganoderma lucidum polysaccharides
| | |
| --- | --- |
| Payment Type: | T/T |
| Terms of Trade: | FOB |
| Delivery Time: | 15 Days |

| | |
| --- | --- |
| Transportation: | Ocean,Air |
Product Description
【Product Name】 Ganoderma lucidum extract / Ganoderma lucidum polysaccharide 30%
【English name】 Reishi Mushroom Extract / Ganoderma lucidum polysaccharides
【Product alias】 Linzhi polysaccharide Linzhi extract
[Product Overview] Ganoderma lucidum extract is a timely harvest of mature and fresh fruit bodies. After drying, hot water extraction (or alcohol extraction), vacuum concentration, spray drying and other processes are used to obtain the Ganoderma extract powder, which is a high power Concentrated Ganoderma extract.
[Source of extraction] It is extracted from the fruit body of Basswood Ganoderma lucidum.
【Product Specifications】 Ganoderma lucidum polysaccharide 30%
[Detection method] UV
【Appearance】 Brown and yellow fine powder
【Packing Specifications】 Standard packaging: 25kg / cardboard drum; bulk cargo: 1kg / bag
[Storage conditions] Sealed, cool, moisture-proof, protected from light
[Shelf life] 24 months
[Physical and chemical indicators] Appearance: loose powder, no agglomeration, no visible impurities.
Color: It has the inherent color of the product and is uniform.
Odor: The inherent odor of the product.
【Product Application】 Raw materials for health products
Ganoderma lucidum (Ganoderma lucidum) has been called "immortal mushroom" in China and has been used in Oriental medicine for more than 2000 years. In recent years, its active ingredients have become the subject of in-depth research, mainly focusing on its obvious prevention or treatment of certain cancers, treatment of liver disease, HIV infection, acute or periodic herpes virus infection, hypertension, chronic bronchitis, allergies and asthma It helps, as well as the ability to regulate immune function benignly. Ganoderma is mainly grown on decaying wood or tree stumps in the wild in coastal provinces of China. Its fruiting bodies are mainly medicinal.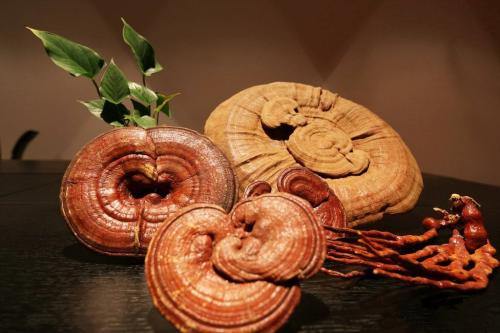 Ganoderma lucidum
1. Anti-cancer activity
Animal cancer studies (eg, rat connective tissue cancer model) have shown a 50% tumor regression rate after treatment with Ganoderma extract. Ganoderma lucidum extract is used by some surgeons in Japan to treat cancer patients, and its significant anti-tumor and immune stimulation effects have been noted in many cases. Polysaccharides isolated from Ganoderma lucidum and other medicinal mushrooms have been patented in Japan as immunomodulators in cancer treatment. It is used in combination with chemical or radiotherapy and shows the ability to reduce side effects and improve the therapeutic effect, and is used to promote disease recovery.
Studies in China have shown that Ganoderma lucidum extract enhances the anti-tumor ability of macrophages and T-cells. Ganoderma extract is also known to have other immunomodulatory effects and antioxidant properties. Animal studies have also shown that the polysaccharide part of Ganoderma lucidum can induce leukemia cell apoptosis (programmed death of cancer cells) and induce cell differentiation of 40% -45% of leukemia cells when treated with Ganoderma lucidum polysaccharide, proving its obvious cancer Treatment potential. These effects are mainly due to the increased secretion of anti-tumor cytokines (signal agents) induced by Ganoderma lucidum polysaccharides, namely TNF-alpha and IFN-gamma, and these two cytokines show a synergistic effect in inhibiting the growth of leukemia cells. In a related experiment, the D-glucan polysaccharide portion of Ganoderma lucidum showed a dramatic tumor regression when studying malignant tumors in rats. In many experimental animals, the selected population showed complete tumor regression 5 weeks after injection of beta-D glucan polysaccharide fraction. The experiments conducted by Y. Song et al. Reported 90% tumor suppression rate and 75% tumor regression in diseased animals.
Improve immunity
2. Improve the immune system: (bronchitis, asthma, nasal allergies, herpes diseases and HIV infection)
Ganoderma extract can regulate many components of the immune system, some of which are considered to have obvious anti-tumor properties. In an experiment involving 2,000 cases in China, concentrated ganoderma lucidum products showed good response after treatment of elderly chronic bronchitis. The study showed a success rate of over 60%. After several months of treatment, the level of immunoglobulin A in the sputum increased significantly. Immunoglobulin A is the main immunoglobulin found in the respiratory tract. In nasal allergies, systemic lupus and rheumatoid arthritis it is generally deficient. Ganoderma extract supplements have been shown to improve the symptoms of asthma and nasal allergies. Two important components of Ganoderma lucidum extract, oleic acid and cyclic octasulfide have been shown to inhibit the release of histamine, which may be why it is beneficial for asthma. At the same time, a special type of Ganoderma extract called Glhw-02 Protein-bound polysaccharides have demonstrated effective antiviral properties against simple viruses of type 1 and type 2 under laboratory conditions. A small human experiment showed that Ganoderma lucidum extract "dramatically" reduced the pain of two patients with postherpetic neuralgia and the other two patients with herpes zoster infection (shingles, caused by herpes virus).
Under laboratory conditions, a variety of ganoderma acids and polysaccharides in Ganoderma lucidum extracts can be used as active anti-HIV substances, and showed the ability to reduce virus replication by 50% at a conservative dose. After being mixed with other oriental herbs, Ganoderma lucidum was It is used for the treatment of AIDS-related syndrome and AIDS, and used alone or + mixed with other medicinal materials to treat chronic fatigue syndrome.
Cardiovascular
3. Cardiovascular health: (High Blood Pressure and reducing platelet aggregation)
Two controlled human experiments have shown that Ganoderma lucidum extract can reduce hypertension to an extremely significant degree (systolic blood pressure and diastolic blood pressure), even for patients who previously did not respond to known antihypertensive drugs. Animal experiments have shown that Ganoderma lucidum extract reduces blood pressure through a central inhibitory effect on sympathetic nerve activity, although this effect basically does not slow down the heart rate or cause a sedative effect. In the laboratory environment, Ganoderma lucidum extract has a mild to moderate platelet accumulation effect, which may help reduce the risk of cardiovascular disease in the future. It has also been shown to increase endurance, blood flow into the brain and improve cell oxygenation. Similarly, it contributes to the synthesis of energy at the cellular level, which may improve cardiovascular health and is used in certain cultures to improve memory and intelligence, including the successful use in studies of patients with Alzheimer's disease.
Liver protection
4. Liver protection (liver protection characteristics)
Ganoderma lucidum is used as a prescription medicine in China to treat chronic and acute hepatitis. Many polysaccharides in Ganoderma lucidum have strong anti-hepatic toxin properties, and they show hepatoprotective effects under chemically induced injury in the laboratory environment, including protection against the highly toxic and lethal substance carbon tetrachloride.
Support nerve
5. Support the nervous system
Ganoderma lucidum has traditionally been recommended by Chinese and Japanese herbalists for insomnia due to its "sleep promoting factors". Long-term use will result in a significant promotion of slow-wave sleep. In China, Ganoderma lucidum is used as a prescription drug for many psychiatric and neurological problems, including muscle diseases, loss of appetite, and weakness after long-term illness.
anti-allergy
6. Anti-allergic / anti-inflammatory effect
In the 1970s and 1980s, the anti-allergic effects of Ganoderma lucidum became the subject of ongoing research in China and Japan. Studies have shown that Ganoderma lucidum extract significantly inhibits all four types of allergies, including positive effects on asthma and contact dermatitis. In 1990, scientists at the University of Texas Health Science Center in San Antonio discovered that Ganoderma lucidum can be effectively used to treat neck stiffness, shoulder stiffness, conjunctivitis (inflammation of microfilms lining the eyes and eyelids), bronchitis, rheumatism and Improve immune system capacity without obvious side effects.
Ganoderma lucidum's anti-inflammatory ability may be partly due to its free radical scavenging ability. Ganoderma lucidum extract significantly improves the free radical scavenging ability of blood, especially against significantly harmful hydroxyl free radicals. The hydroxyl radical scavenging ability of Ganoderma lucidum is so powerful that the scavenging effect of Ganoderma lucidum extract continues after its absorption and metabolic changes.
Anti-Aging
7. Anti-aging
Chinese ancient medicine classic Shennong Materia Medica records that Ganoderma can effectively enhance life energy (qi), increase thinking ability and prevent forgetfulness. It can restore the body and intelligence, delay aging and enable humans to prolong life.
Guangzhou Zhongzhinan Supply Chain Co.,Ltd.
In 2019, the New Coronary Pneumonia virus raged all over the world. Our company produced many anti-epidemic materials, including nucleic acid detection reagents, antibody detection reagents, colloidal gold, disposable civilian masks, KN95 masks, gloves, surgical clothes, ventilator, N95 medical masks, Sexual medical masks, frontal temperature guns, face masks, KN95 masks with breathing valves, disposable medical surgical masks, etc., protective clothing, isolation clothing, nucleic acid detection reagents, exported all over the world, help people around the world resist the epidemic, hope to overcome the epidemic as soon as possible Back to normal.
Classification of new coronary heart disease detection reagents on the market:
1. Nucleic acid detection reagents are medical reagents with high accuracy and high price. Remove the liquid sample from the throat for testing. Results will be obtained within 2 hours. Professional equipment is required. The professional level is very high. The compliance rate is 97%. , Dry ice transportation! Suitable for hospitals, government agencies!
2. Antibody detection reagents and colloidal gold are civilian detection reagents, with medium accuracy, which can be used for blood detection. The result is 15-30 minutes. It is fast, easy, cheap, and can be transported at room temperature! Suitable for civilian use!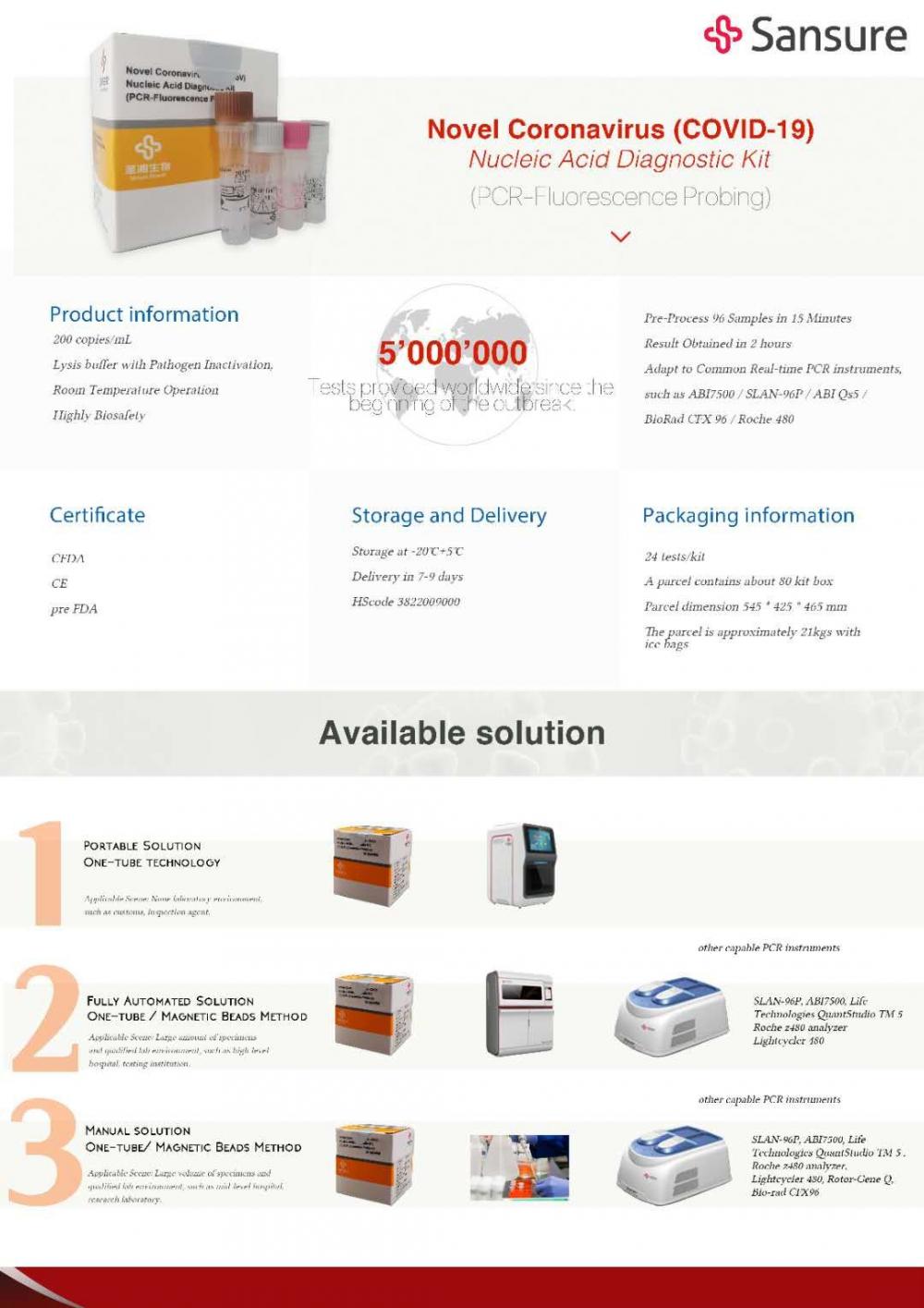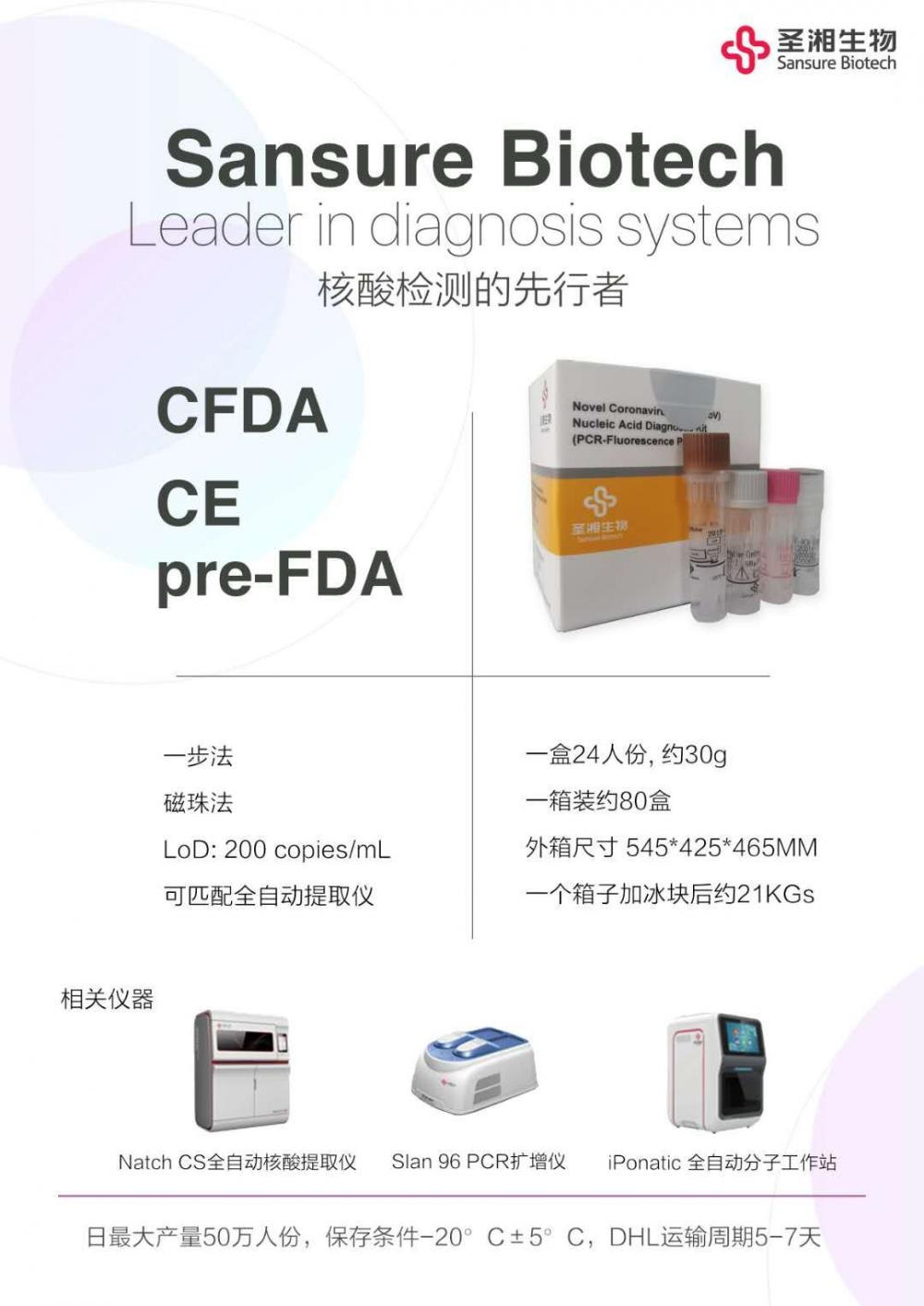 Company Name: Guangzhou Zhongzhinan Supply Chain Co.,Ltd.
Representative: BI tianyi
Product/Service: Nucleic Acid Diagnostic Kit , Disposable Civilian Masks , Forehead Thermometer , Protective Suit , KN95 Mask , Antibody Test Kit
Capital (Million US $): 500000
Year Established: 2018
Total Annual Sales Volume (Million US $): Below US$1 Million
Export Percentage: 61% - 70%
Total Annual Purchase Volume (Million US $): Below US$1 Million
No. of Production Lines: 20
No. of R&D Staff: 51 -60 People
No. of QC Staff: 11 -20 People
OEM Services Provided: yes
Factory Size (Sq.meters): 50,000-100,000 square meters
Factory Location: No.680, Lusong Road, Hi-Tech Development Zone, Yuelu District, Changsha, Hunan Province, 410205, P.R. China
Contact Person: Mr. BI
Tel: 86-0757-28336580